Evaluation of the sensitivity of the species to change, its adaptive potential to deal with the change and is it at risk to experience those changes.
Main goals:
Coordinate information flow between scientists and managers
Support research that will address management needs at the landscape scale
SAVS: A System for Assessing Vulnerability of Species to Climate Change uses an online questionnaire with 22 criteria to predict vulnerability or population response of species to provide a framework for assessing vulnerability to future climate change. The 22 multiple-choice questions are grouped into four categories by theme: habitat, physiology, phenology and biotic interactions. The questionnaire is completed using information gathered from published materials, personal knowledge, or expert consultation.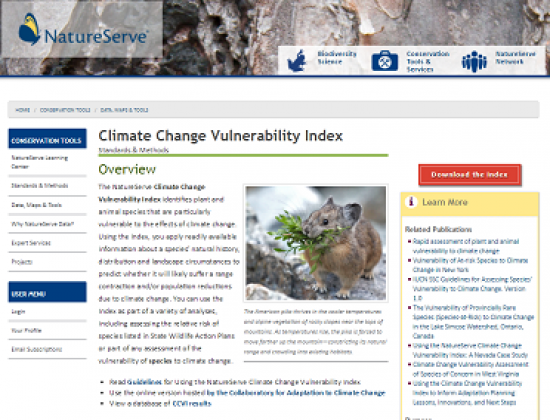 The NatureServe Climate Change Vulnerability Index identifies plant and animal species that are particularly vulnerable to the effects of climate change. Using the Index, you apply readily available information about a species' natural history, distribution and landscape circumstances to predict whether it will likely suffer a range contraction and/or population reductions due to climate change. You can use the Index as part of a variety of analyses, including assessing the relative risk of species listed in State Wildlife Action Plans or part of any assessment of the vulnerability of species to climate change.